TAP WATER DAMAGE, WATER IS EXPENSIVE:
Prevention is better than cure. Water damage is always unexpected and sudden, causing anger and high costs. Thanks to certified, intelligent technology with the WATERSTOP system Its better to be on the safe side.

In Germany alone, every year there are more than one million water damage cases in homes and apartments, the cost amounts to over a billion euros per year.

Causes are burst pipes, these are usually caused by corrosion or pitting. Your car regularly goes to the garage for a service, so its pipes are checked, but in the house the water lines are hardly maintained and serviced. Especially in older buildings.The risk of pipes breaking is growing. The consequences are unpleasant and costly.

Security and protection for the domestic water system

Water damage occurs without warning. It is therefore particularly important to protect houses or flat´s. This is easy with the WATERSTOP system of POOLTEC. Thus, damage is preventable to water lines is happiness. The patented valve backup, Monitors the drinking water system of a house.
With the WATERSTOP sytem any unchecked pipes that are burst or runny faucet or a leaky toilet, the WATERSTOP system will stop further leakage of water, thus preventing floods in living rooms and basements.

Entirely on the safe side
• Emergency: Batteries are in safe working and will provided backup during a blackout for several hours
• The "manual remote" thinks! When times more water is needed - no problem! By simple supply and turning on the faucet, just after a barrier, recognizes the WASSERstop that intentionally more water is needed. The flow of water is released.
• Individually set: The WASSERstop is programmed according to the typical for your household water consumption, and can be programmed every time.
• Manual mode: With a control button on the device, you can stop the water flow manually or allow.


As necessary as the electrical fuse
An electrical installation without backup? Unthinkable! The plumbing in the house should be protected, insurance experts recommend. By WATER STOP is the house on the safe side. Fully electronic device which monitors the water supply round the clock.

Ideal for rented houses / apartments
WATER STOP is also particularly useful for second homes that are empty for some time and seasonal rented houses. WATER STOP constantly monitors water usage and automatically stops water flow in case of anomaly. Owners shall ensure that water bills will not be excessive.
latest news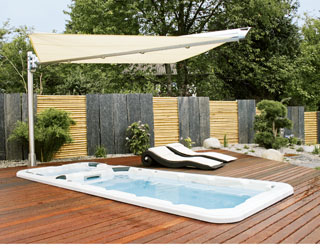 Operating costs under control

Swimming yourself. Free from the prejudice a separate pool is an energy spin If you rely on innovative technology and smart accessories, you run your own pool of energ...
more ...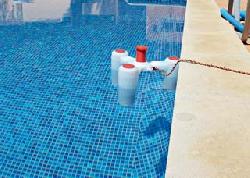 Swimming class

A modern swimming pool provides wellness and relaxation. Among the approximately 4000 highly satisfied customers of Kühling Hauer & includes many celebrities who appreciate the compe...
more ...